Leg pain is one of the most common complaints among patients today. It can be caused by an injury or underlying medical conditions that affect many people. It can range from mild discomfort to severe, chronic pain and can be caused by a variety of factors.
Causes and risks factors of Leg Pain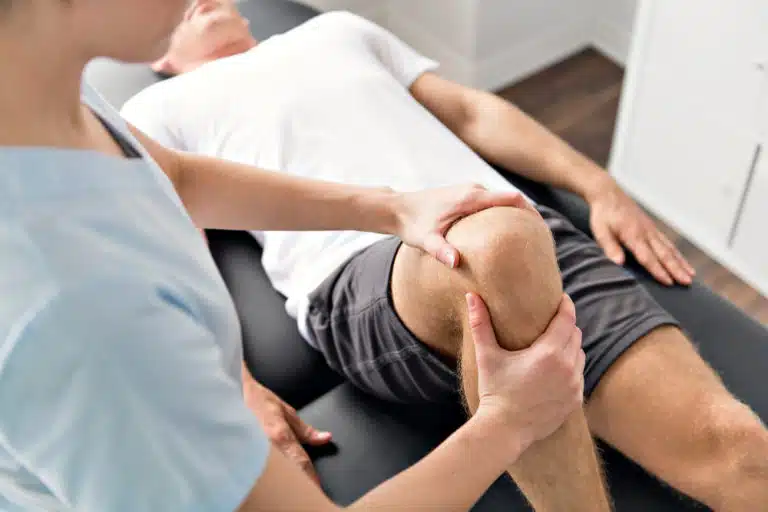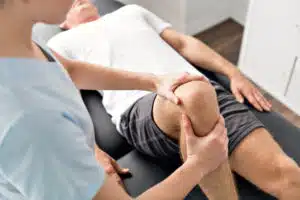 sciatic nerve impingement
muscle strains
injured ligaments
tendons or cartilage
bursitis of the hip or knee
patellofemoral syndrome
IT Band syndrome
shin Splints
achilles tendinitis
Diagnosing Leg Pain
When a patient is experiencing leg pain, an evaluation by a chiropractor or physical therapist will help to determine a diagnosis of what is causing the pain.
Since leg pain can be caused by several structures in the body and the root cause is not always in the leg, it is important to treat the correct structure in order to improve to pain and get back to your normal function.
Leg pain can radiate from the lumbar spine for several different reasons and is often referred to as sciatica or sciatic-type pain.
A disc bulge or herniated disc can pinch on a nerve in the low back causing radiating pain into the leg. Lumbar spine instability created by a spondylolisthesis, anterolisthesis or retrolisthesis can irritate a nerve and cause pain in the leg.
Once the condition is properly diagnosed there are several treatment options for these conditions. In general, the pressure on the nerve needs to be alleviated and the inflammation around the nerve needs to be calmed down to decrease the pain.
Spinal adjustments, manipulations, soft tissue mobilization or massage as well as modalities such as dry needles with electrical stimulation, laser, or shock wave can aid in the recovery process.
Another key component is core stability to stabilize the lumber spine from too much movement which can easily irritate a nerve.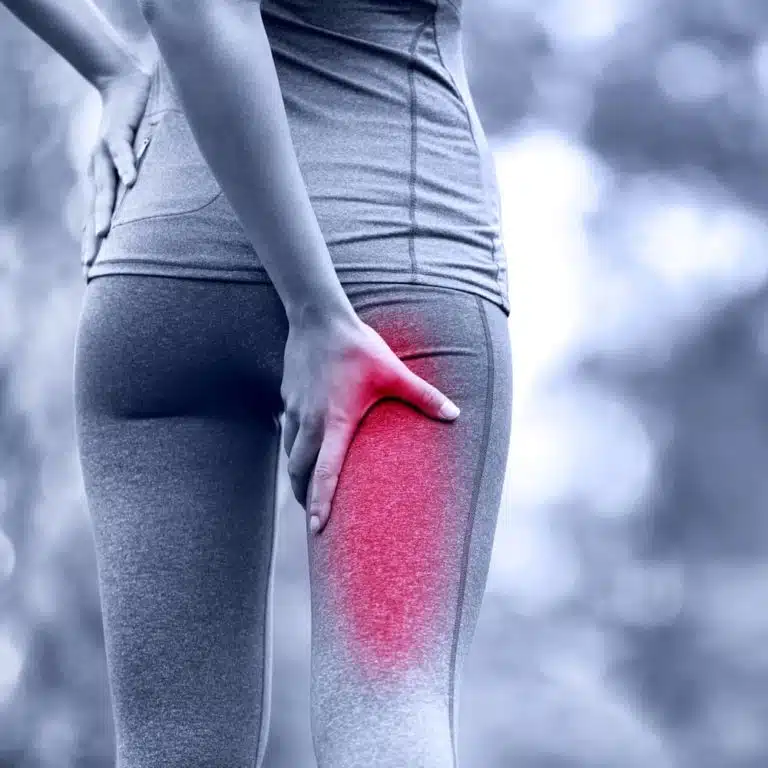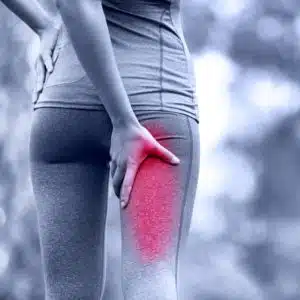 Leg pain can also be caused by several different structures in the leg. Muscle strains from overuse and repetitive type activities can cause significant pain in that muscle due to micro-tearing in the muscle or tendonitis which is inflammation of the tendon due to repetitive stress. Generally, this will result in increased pain whenever the muscle is activated or contracted to perform a specific activity.
It is important to treat these injuries as early as possible to decrease the risk of these injuries turning into chronic issues. Other injuries can occur to the ligaments of the hip to the knee which can Muscle strains to happen when there is excessive stretching and tearing of muscle fibers. It can typically occur during sports or strenuous activities, especially if muscles have not been properly warmed up prior to the start of the activity.
If the strain is severe and a great number of muscle fibers are torn, bruising, and swelling of muscle can appear. The most common muscle strains in the leg are:
groin (hip flexors or adductors)
quadriceps (thigh)
hamstrings
calves
Bursitis is defined as the inflammation of the bursa, which is a small fluid-filled sac that exists between bones, tendons, and muscles.
When to Contact a Medical Professional
There are myriad of possible causes for leg pain, so it is important to consult with a professional if the pain does not improve with self-care or is severe. If you have any questions about your leg pain, don't hesitate to reach out to us or schedule online. We would be more than happy to help provide answers and clarity.